#200: Cui-daoré Restaurant, Dōtonbori, Ōsaka. 1949-2008 - 2010-10-19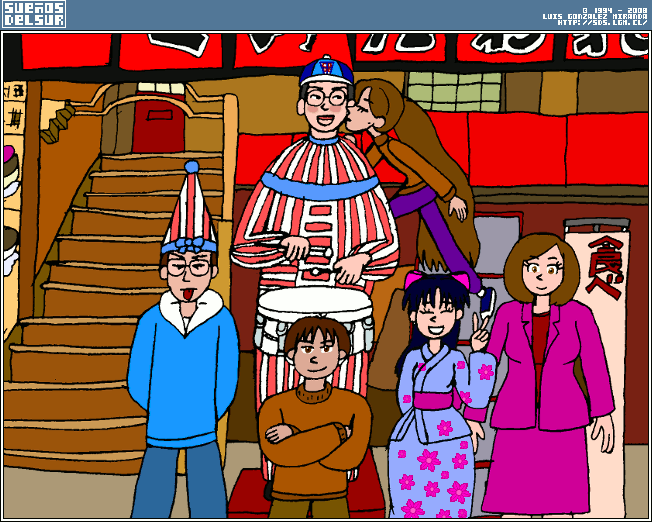 - Hugo: I don't look like that doll! It's a clown!
- Misato: Easy there, Hugo. That was just a joke!
- Hugo: Hmpf! And why is he so special? Why so many people come and take photographs of him?
- Ryōko: Kuidaore-Tarō is one of the most dear and symbolic characters from the city of Ōsaka. He's the mascot of the famous Cui-daore restaurant, one of the largest in the world, with eight floors of japanese and western food.
- Hiroshi: And today, that we meet with our chilean family after so many years, we're going to lunch here.
- Eliana: Really? Because we're ten people, and the prices aren't quite...
- Hiroshi: Oh, that's the menu at the upper floors! There you must make reservations, for events, business meetings, tourists, etc. Don't worry, little one, the first floor offers a more convenient menu. Also, we the people from Ōsaka spare no expense on food.
- Ryōko: That's why the restaurant has that name. There's a japanese saying, "Kyōto no kidaore, Kōbe no hakidaore, Ōsaka no kuidaore."
- Rosa: Buy clothes in Kyōto until you go bankrupt. Buy shoes in Kōbe until you go bankrupt. Eat in Ōsaka until you go bankrupt.
- Hiroshi: Yeah, so order what you wish, for I pay.
- Rosa: Uh... uncle Hiroshi... we're big eaters. I don't think it is a good idea...
- Eliana: Rosa... what is this?
- Rosa: Takoyaki au gratin. Fried octopus with potatoes and molten cheese.
- Eliana: Octopus!
- Rosa: Welcome to Japan, Eliana.
- Eliana: Hm... that's okay. I want that.
- Pedro: Rosa, that looks good. What is it?
- Rosa: "Lunch for kids"
Everyone chuckled, except Pedro and Rosa.
- Rosa: Pilaf rice, hamburger, fried shrimp and sausage, with orange juice and a Kuidaore Taro toy.
- Pedro: Bah. No, I want this one instead.
- Misato: Hayashi rice. That sauce is made of beef with onions, mushrooms, tomato sauce and red wine.
- Hugo: Bingo. That's what I want.
- Pedro: Yes, it looks tasty. And you, Rosa, what are you ordering?
- Rosa: Uh... I think I'll order Takoyaki too.
- Hiroshi: And you said you were big eaters? You're asking for the cheapest dishes! I'll order... Cui-daore rice. It has Hayashi, tonkatsu (pork chop), hamburger, shrimp and curry sauce. All for 1980 yen. Who is with me?
All the adults raised their hands. The Cui-daore rice quickly disappeared from the dishes of all six older people, while the kids took their time sharing two dishes of Takoyaki au gratin and two dishes of Hayashi rice in total.
- Misato: Hiroshi, I think it wasn't a great idea to bring them to a west-style restaurant.
- Hiroshi: You're right. Now that I think about it, I think they eat rice every day in Chile.
Rosa hears what they whispered, but remains silent in respect. Actually, the typical lunch of the Martínez Gómez consisted mainly of rice or noodles with potatoes and vegetables, plus chicken or fish, rarely red meat. Their breakfast, instead, is more filling, including a cup of milk and a sandwich of avocadoes, tomatoes and/or eggs.