#428: At the hillside road - 2017-06-27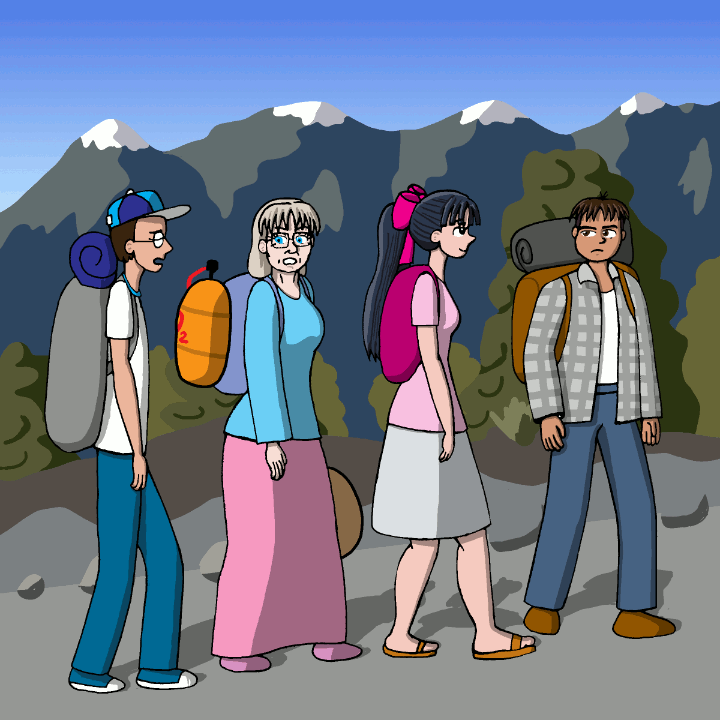 — Hugo… — María asks him — What's going on?
— Ouch, I'm getting bored of walking already. Are we there yet?
— Again with that! Why did you come here?
— I didn't think it would be this far! I'm not used to walking so much!
— Well, learn to measure your words, Hugo! « Bring us to the mountain!», you said. Well, we're here, so let's keep going!
— Oh, crud!
They were already above 1200 meters over sea level, and a soft breeze made the air cooler; while at the town of Abanico there were 29°C, the temperature at the road they took was just 14°C, which was colder than what would be expected at that altitude. Far away, a few snowed peaks could be seen, which would be bare rock without the harsh winter of 1995. But there was still a long way to go.
Rosa remained silent, with a smile on her face, and her eyes staring fixed to the front. That was worrying for Pedro. Eliana, eternally bored of waiting for her sibilings to keep up, already had explored a large fraction of the Laguna del Laja National Park, alone, from the skies.
— Eliana. Check Rosa out.
— … Darn, that face.
— That smile scares me.
— … Yeah, it looks like… Hey, Rosa.
Rosa doesn't answer, until Pedro shakes her.
— I'm okay, kids — Rosa finally answers — I'm better than ever.
A single tear fell from one of her eyes, but Rosa remained smiling, engrossed on her own thoughts.