#218: Shimbashi - 2011-03-17
Tōkyō, February 7, 1995.
A cold day, but not so much - the minimum was 2°C - was waiting for the Martínez Gómez family at the japanese capital city. A quarter past ten in the morning, and they couldn't make their mind, while Juan, Hugo and Eliana studied a map of Tōkyō with its various railway and subway lines.
Up to this point, only one thing was certain. They would have to pay. In Sapporo and Otaru, many points were relatively close to each other, and the furthest points were reachable by means of train and buses operated by JR Hokkaidō, so the JR pass covered all the expenses. But these passes don't work for the Tōkyō subways (called "Eidan" and "Toei"), and the addresses were given in terms of Eidan subway stations. Choosing the least expensive and most direct route was a problem hard to solve.
They were stopped at a bridge, two blocks west from the Tōkyō station, which crossed one of the channels that surrounded the Imperial Palace, the residence of the Emperor of Japan. They hadn't noticed that detail, because all they saw to the end of that street were trees, and they weren't interested in walking around the surroundings. The trees over the bridge didn't have many leaves, and the shadow of the buildings didn't reach the place where they were stopped.
Soon, Rosa opened her eyes, and discovered herself at an uneasy posture, like that of someone who is dropped sleeping over two seats of a train, except with a rigid body and supported by one of the bridge's parapets. Her body was all soaking wet and very cold.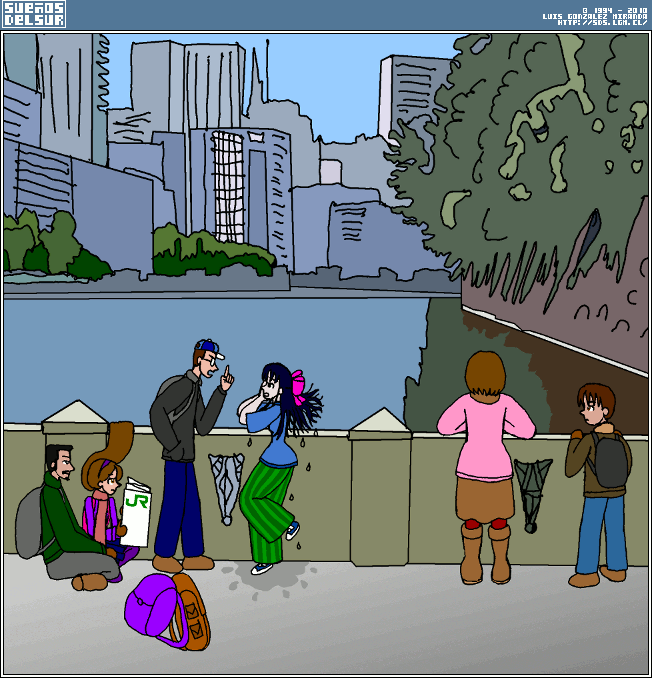 - " Huh? What happened? Where are we? WHY CAN'T I MOVE!? "
- " We're in Tōkyō, Rosa. " - Hugo answered - " When we arrived to Aomori we met with that surprise. If it wasn't by your snoring, we would have all thought that you were dead. "
- " What!? "
- " Your wagon was covered of snow, that fell from the windows that you left open. We covered you with a blanket and took you away; we almost lost the combination. The most strange thing of all was that nobody said anything to us, even though the wagon we boarded was full of people. "
- " Maybe they thought you were a statue, a doll or something like that. " - Pedro added.
- " If it was like that, you would have had to pay for heavy baggage! Ow... I can move my arms now... but not my hands! "
- " Rosa... " - Hugo stood up in front of her, who had her eyes wide open and her face pale like a dead woman - " Stop frightening us this way! Ok? "
- " Oops, I'm sorry! I didn't think I was going to get frozen! "
- " You could die if you keep staying so uncovered in the cold! " - Juan protested - " I just hope that my mother doesn't send us back to Hokkaidō or some other place with snow! I swear, next time you won't make it! "
Rosa started crying. Suddenly, her knees relented, and Rosa could move them again. Actually, she was thawed since a while ago, but she was still rigid because her nervous system got used to that awkward posture.
- " Now, now, calm on, Rosa. The important thing is that you're alive and that apparently nothing happened to you. Now, we need you to help us decypher the map, so we can deliver the messages quickly without having to pay too much for the travels. "
But Rosa stayed crying for about ten minutes. Juan took a the choice of taking a train to Shimbashi station, because one of the addresses was five blocks from there.
They spent much more time walking from and towards the stations than actually travelling in train. The Tōkyō railway system is crazy; the trains are very long with a lot of wagons, and they pass very close to each other. Sometimes there are two trains passing simultaneously, though they don't stop at the same stations. The bullet train also passes close to there, at an elevated railway. And the train speakers had very enjoyable melodies and announcers speaking in Japanese and English. At that time of the day there wasn't so much people; during peak hours, all wagons become more than full of people.
The address was that of a photographic studio. Rosa asked for the package's addressee, and the photographer told her that he didn't work there anymore. Then the cashier asked for permission, and called Rosa in order to talk inside.
Rosa walked outside the studio with a very sad expression on her face. She still had the message in her hands.
- " He suicided. Mr. Takeda committed suicide. January the 21th. "
The cashier was an old female friend of Mr. Takeda. She was in love of him, and could never tell him. When the earthquake came, Mr. Takeda travelled to Kōbe, and found his parents' place, the first floor of an apartment building, collapsed. Many people died at that building, and Takeda thought that his parents were already buried beneath the building. But the message said another thing. Mr. Takeda's parents were out for vacations in Canada, and they didn't know about the disaster until a week ago...
The Martínez Gómez family would spend the rest of the morning travelling around Tōkyō, giving messages. This time, they didn't even bother with eating breakfast, all they wanted was to finish the chores as soon as possible.