#349: Fear of the future - 2014-12-10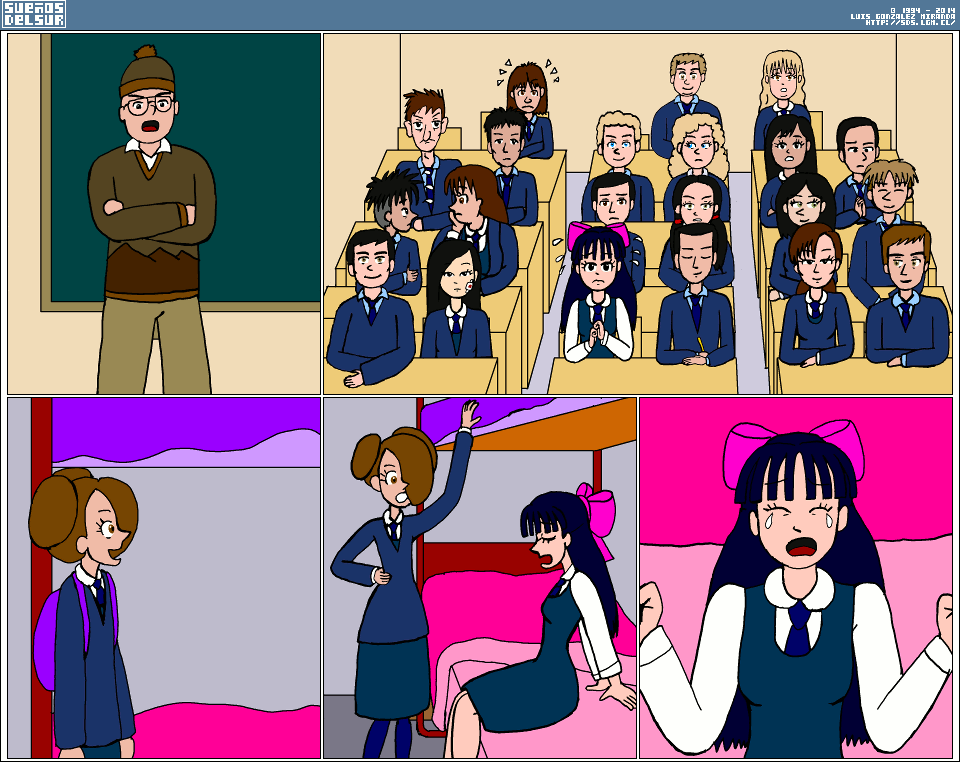 Profesor Muñoz:
It's a worry­ing fact that most of you still haven't thought about your professional future.
Profesor Muñoz:
Remember that you're already finishing primary school. You must choose between the scientific-humanistic and technical-professional schools.
Profesor Muñoz:
I'll give you a vocational test, Fill it and bring it to me by next Monday.
Profesor Muñoz:
There are no right or wrong answers; this is just to help your choice, so don't get scared.
Eliana:
Let me go take a photocopy of it! I want to fill that test too!
Rosa:
Fill my copy if you wish. I don't feel like it.
Eliana:
But it's important for you to do so! Maybe there's another career that could be good for you!
Rosa:
But I don't want to think about my future...
Eliana:
What's wrong, Rosa? You'll go to secondary school next year!
Rosa:
It's that... I don't know, I feel like I'm wasting my time, that this is a futile struggle.
Eliana:
Shenanigans, Rosa! Life goes on, and if things don't work out, you must carry on; don't let yourself to die!
Rosa:
I DON'T WANT THIS YEAR TO END, ELIANA! I'M SO A­FRAID OF 1996 AND I DON'T KNOW WHAT TO DO!
Eliana:
You're al­ready deli­rious! That's not possible, you must accept it!