#360: Juan the smoker - 2015-03-04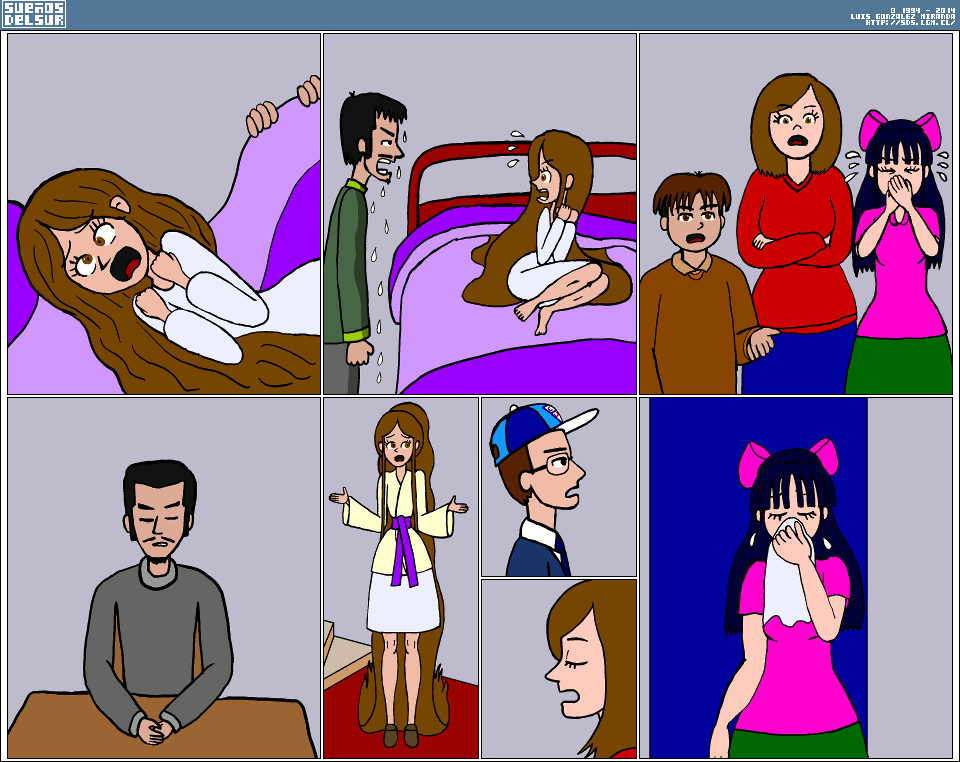 Juan:
Eliana! Why did SAPOCOP pour water at me with the garden hose!?
Eliana:
EEEEEEEEEEEEEEE!!!
Juan:
Look at how it left me!
Eliana:
Wha... WHO ARE YOU!? WHAT ARE YOU DOING AT MY HOUSE!?!?
Juan:
What did you say!? I AM YOUR FATHER!
Eliana:
IMPOSTOR! MY DAD DOESN'T SMOKE!
Rosa:
Oh, God! You reek of cigarettes!
Pedro:
Wasn't tobacco harmful?
Clara:
You broke your promise! It was for the kids' sake!
Rosa:
Daddy, how could you!
Juan:
... I think I owe everyone an explanation.
Juan:
During the last months I've been suffering from stress and mental breakdown.
Juan:
You haven't seen me much, be­cause they made me work extra hours there at work.
Juan:
I don't like to bring work-related troubles to the house, that's why you haven't noticed, but the fact is that it's been quite diff­icult to me.
Juan:
Also, Rosa... Your grades are making me worry a lot. Sometimes I wish I could have time to help you, but I can't. Though you already have the support of María and Eliana...
Eliana:
... when I don't have to do sub­stituions... also, María keeps travelling to Chillán.
Hugo:
My classes are in the afternoon...
Clara:
... I al­ready for­got these subjects... also, I'm in charge of the business by myself.
Rosa:
Ow, my nose hurts a lot!
Rosa:
... Uh... I'm really grate­ful because of your help and preocupation... Snrrk! Snrrk!
Rosa:
...But I seem to be perform­ing better when I study by myself...
Todos:
... Do you think so!?