#362: Anti-miscegenation - 2015-03-16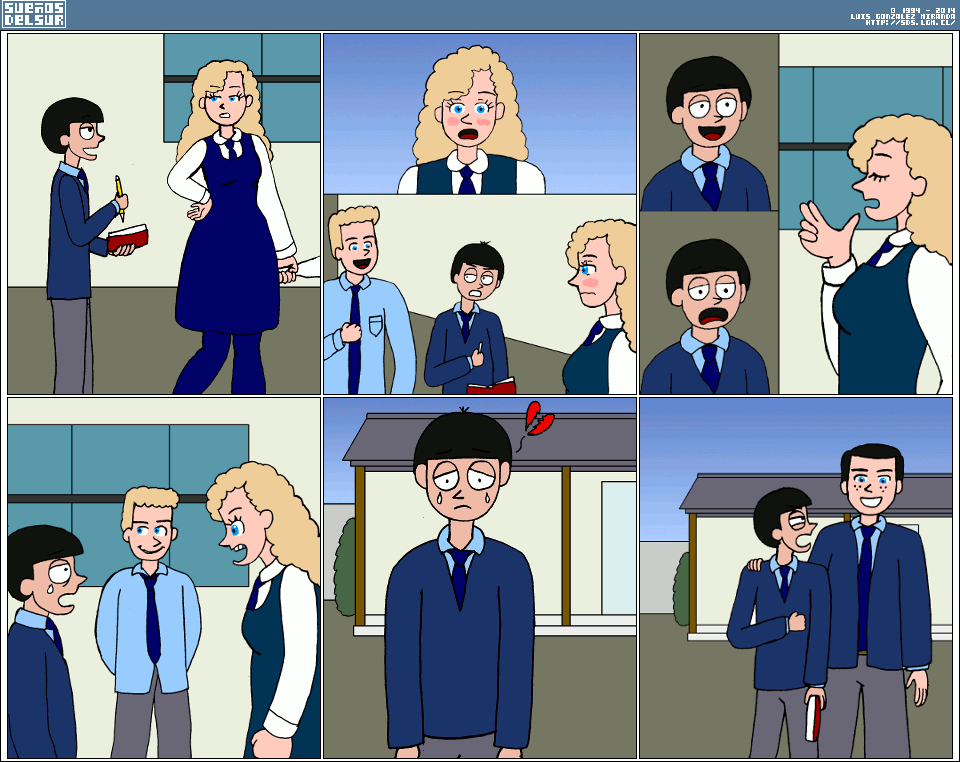 Carlos:
Excuse me... Do you have a moment for a short survey?
Marcela:
... Sure, I have nothing to do right now.
Carlos:
Very well! Let's see... you're in class 8-B, right?
Marcela:
I became fourteen a month ago...
Carlos:
How is your rela­tionship with your male classmates? Too many suitors?
Marcela:
Huh? Not that I know of. I have many friends, but nothing beyond that.
Carlos:
Oh... How about out­side your cla...?
Rodolfo:
A survey! Cool, I want to fill it too!
Carlos:
You two go together all the time! What's going on?
Carlos:
Wait... you are not dat­ing, right!?
Marcela:
No, we're cousins. In fact, I don't have a boyfriend.
Marcela:
But don't get your hopes up!
Marcela:
Ours is a quite ancient family! We involve ourselves only between Germans!
Carlos:
...Oh, so you're from
those
.
Carlos:
Wait! You have a sister at the Polytechnic School! Right?
Marcela:
So you like them grown up, punk!? Sandra won't date a Chilean boy, either!
Carlos:
... But she's al­ready going out with an older guy... and he doesn't look at all like a German...
Rodolfo:
I want to date a Chilean girl, too...
Carlos:
Damned master race!
Carlos:
That's what I get for pretending such an angel, being a dirty mestizo sudaca...!
Carlos:
But no, I won't be the "Cirilo" for this "María Joaquina". I don't fall for the game of the devilish one...!
Cristián:
Wow, Carlitos! You have some quite strange tastes on girls!
Carlos:
LOOK! HUEVÓN! WHO! IS! TALKING!
Carlos:
Plump boy who likes SCRAWNY GIRLS!
Cristián:
Hahaha...! Ouch, what a low blow, you!