#373: The price of being the best - 2015-06-23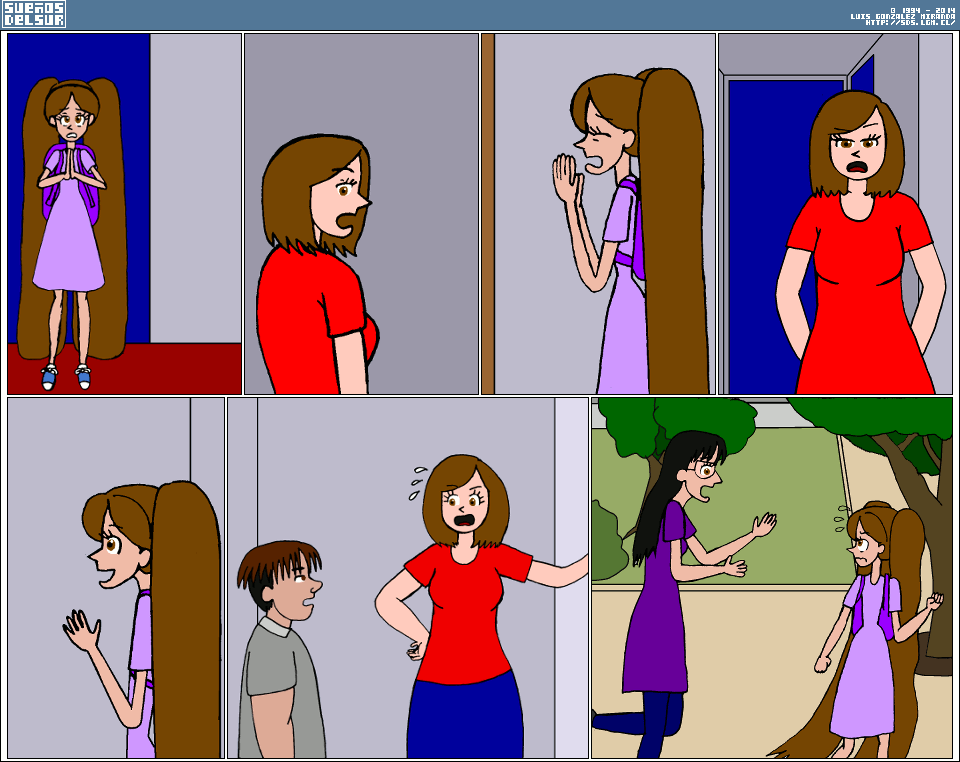 Eliana:
Mom! I need to ask you for a big favor!
Clara:
What's going on, Eliana? And why the backpack? Are you going somewhere?
Eliana:
I need to flee from this place! Andrea has to repeat the year! I don't want her dad to come pester me because of his daughter!
Clara:
Well, you wanted to play teacher with your classmates! Now face the consequences!
Eliana:
But you don't know Andrea! She's a slow­poke and a dimwit!
Eliana:
Neither María, nor Mr. Salinas, nor Ms. Pizarro could take a perfect grade out of the stone she has for a brain! Only I could!
BUT I DON'T WANT!
Clara:
Now you don't want, after doing substitutions at like five schools.
Eliana:
But it's not the same! I teach the same things to the whole class, but this is a personal issue! I don't want to have to explain things to that retard like she was five!
Clara:
You know, I don't care any more. Go away, if you want! You have been able to take care of yourself since forever anyway!
Eliana:
So... you're letting me go!? Thank you, Mom! You're taking an immense burden off my shoulders!
Clara:
Yeah! You al­ready took that decision any­way, and I can't stop you even if I wanted. Bye.
Minutes later...
Clara:
You too, Pedro? Go if you wish, you have my permission! Everyone has my permission! Just leave me alone!
Pedro:
But I didn't want to leave...!
Pedro:
...I wanted to invite my friends to the house!
Clara:
BUT YOU LOOK AFTER THEM!
Meanwhile...
Ximena:
ELIANA! WE NEED YOU HELP WITH UTMOST URGENCY!
Ximena:
YOU ARE OUR ONLY HOPE!